Strengthening Local Communities
National Diaper Bank Network (NDBN) member programs are as diverse as the communities in which they are rooted. As true grassroots organizations, diaper banks are of the community and for the community. All diaper banks rely on local volunteers and donations to grow and serve as a reliable resource for children and families.
NDBN member diaper banks come in all shapes and sizes and work locally to achieve their missions.
Clean diapers are among the first things families with young children request in disaster situations. Community-based diaper banks are among the first to respond and offer immediate assistance. Plus they are there throughout the recovery. It is also a core part of our work.
A diaper bank is a community asset, support by committed volunteers and donors. Input is always welcome.
As members of the community, NDBN member diaper banks collaborate with government, business and community leaders to reduce poverty and increase equity.
Diaper banks, pantries and programs are as varied as the towns and cities they serve. Often, they use warehouses to store purchased diapers and distribute them through many other agencies on a regular, ongoing basis. Food banks house diaper programs, as do other nonprofit organizations that address basic needs. Everywhere that rural, urban and suburban communities face challenges, community diaper programs work to address diaper need. Cities utilize neighborhood-based community centers.
Faith-based organizations also work to reduce diaper need for the public. Studies have shown that, in addition to improving community wellbeing and helping its most vulnerable residents, a diaper program can contribute to a positive economic impact on the entire region.
Organizations that value individual dignity and equity for all create open and transparent program policies and procedures. The entire community is welcomed in strategic planning, and strong leadership represents the geographic area.
Diaper Repackaging.
Repacking donated diapers is a core volunteer activity at most all diaper bank programs.  Following best practices, volunteers repackage diapers in packs of 50 diapers. The diapers are then distributed either through agency partners or directly to families experiencing diaper need. Photo credit: WeeCycle, Denver.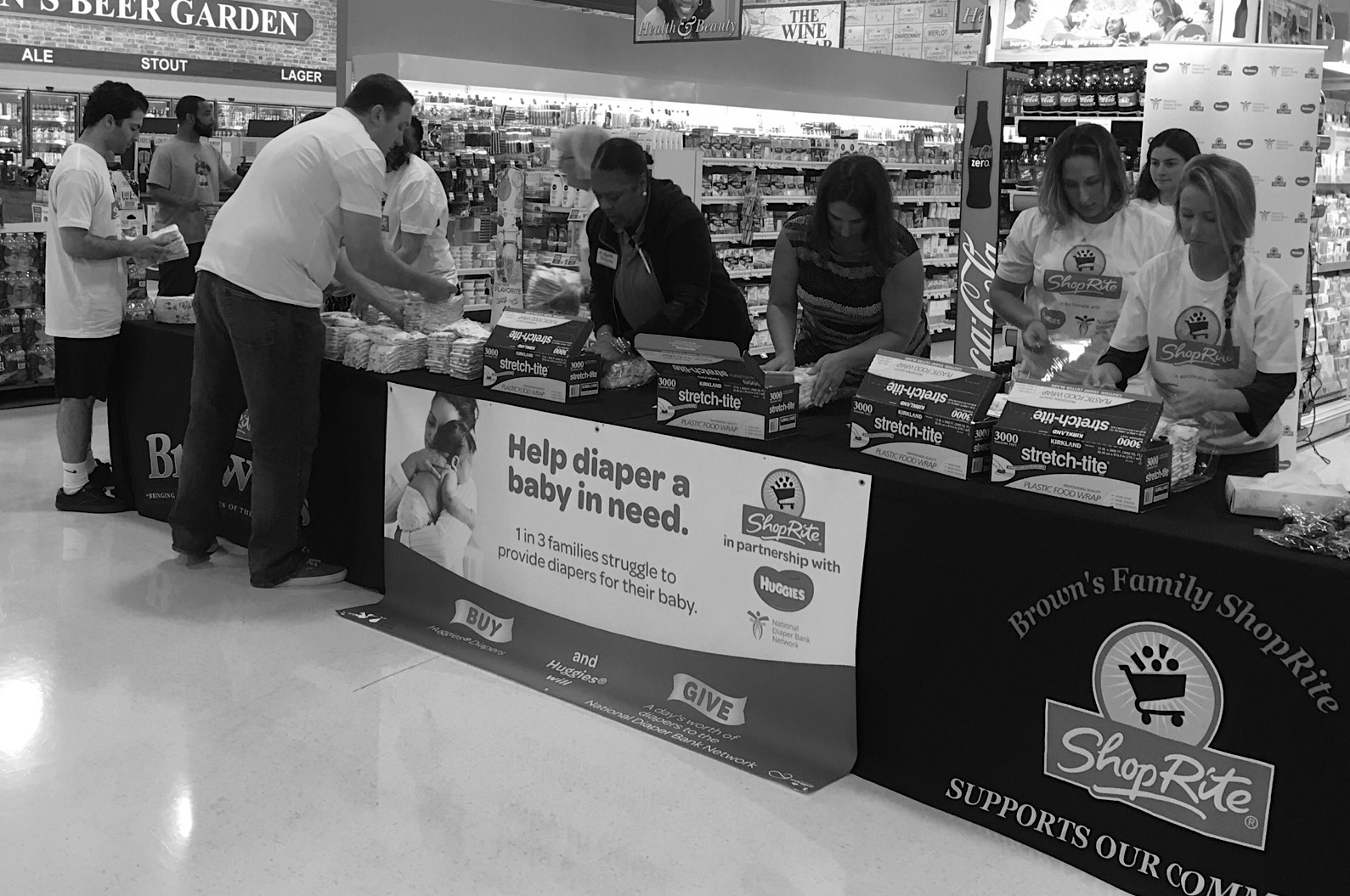 Corporate Activations.
Support from corporations and small businesses alike help keep community diaper bank programs running. Businesses hold fundraisers and diaper drives. Employee teams volunteer at the family-friendly diaper bank. Conversely, the diaper bank
leaders serve as experts who can present at events and testify at legislative meetings about the challenges facing communities and families in need, achievements of collective action, and what real-life solutions are working in other towns that could be put to use locally. Photo credit: Greater Philadelphia Diaper Bank.
Disaster Response.
Clean diapers are among the first things families with young children request in disaster situations. Community diaper bank programs are among the first to offer help in their local community or neighboring communities. NDBN coordinates with member diaper banks, supporters and corporate donors to mobilize the delivery of diapers and other material basic goods that babies and families need. Plus, the support continues throughout the disaster recovery which can last weeks and months. Photo credit: Junior League of Panama City.
Top photo: Volunteers with the Idaho Diaper Bank.